Are you reading any interesting books at the moment? I am actually completely obsessed with Dennis Lehane right now.  I'd always heard of him but never read anything he'd written so I chose the Kenzie/Gennaro book that sounded most interesting to me—Prayers For Rain—and it just blew my mind.  I had to download every other book in the series and I'm working my way through them now.  I can't even read anything else, his books are so good.  I have no idea what I'm going to do with myself once I've read them all.
Are there any new authors that have sparked your interest and why? Nancy S. Thompson.  She wrote The Mistaken which came out in October.  It's a really amazing thriller.  What I really loved was that with all the twists and turns the book took, I didn't see any of them coming. That's really hard to do with a reader who reads crime thrillers constantly.  I can almost always see what's coming next.  Not with this one.  I also love her writing style.  It's really rich and she's great at weaving her characters' conflicting motivations, loyalties and emotions throughout the story.
What are some of the best tools available today for writers, especially those just starting out? The internet.  You can find anything you need on the net now.  You don't even really need to buy books on writing although you still should.  But everything can be found on the internet.  Advice, tips, prompts, critique partners, whatever you're looking for.  Then when you're ready to either look for an agent/publisher or self-publish, all the resources you need are out there on various websites.  Never underestimate the power of a Google search!
What contributes to making a writer successful? I think paying attention to trends in your own genre—to what readers are reading and enjoying—and trying to incorporate those qualities in your own writing.  I'm not saying if everyone loves vampires, write a vampire novel.  You should write what comes most naturally to you and what you enjoy.  But within your own genre you'll see trends now and then—what's selling, what's not.  I think that's important to pay attention to and try to emulate.  For example, in my own genre there could be a trend of tough-as-nails female protagonists or female protags who are single moms, etc.  Or at times, readers are more interested in reading stories where the main characters are regular people when at other times, professional FBI agents or police detectives might be all the rage. Read the books that are successful and try to figure out what the writers are doing right so you can incorporate it into your own work.
Do you have any advice for writers? Keep writing.  That is the best thing you can do for yourself.  It will give you practice and take your mind off the side of the business that really stinks—like the submissions process or the actually nitty gritty of publishing.  If you don't keep writing, the magic goes out of it.  Keep doing it so you never forget what brought you to the table in the first place.
What do you do to unwind and relax? I take a hot bath and read a good book.  It doesn't get better than that!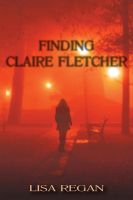 "Readers should drop what they're reading and pick up a copy of Finding Claire Fletcher."  -Gregg Olsen, New York Times bestselling author
"A powerful, emotionally-charged story by a debut author you'll want to keep an eye on!" -J.C. Martin, author of Oracle
Newly divorced and with his career in jeopardy, Detective Connor Parks takes solace in the arms of a beautiful woman he meets at a bar. The next morning, Claire Fletcher is gone, leaving nothing behind but an address and a decade-old mystery. The address leads to the Fletcher family home where Claire's siblings inform Connor that their fifteen-year-old sister was abducted from a city street ten years ago and is presumed dead.
During those ten years, Claire endured the cruel torture and depravity of the man who abducted her. Paralyzed by fear and too ashamed to return to her family, Claire is resigned to her life as Lynn, the identity her abductor forced upon her. Every time she attempts escape or betrays him in the smallest way, someone dies. Even now, her clandestine run-in with Connor Parks may have put his life at risk, as well as the lives of her family.
Connor is convinced that not only is Claire Fletcher alive, but that she is also the woman he met at the bar. Driven to see her again, he begins his own investigation, off the clock and without the police department's consent. He is determined to find her and unravel the mystery of her abduction and odd reemergence. But finding Claire Fletcher proves more dangerous than he anticipates. In fact, it may be deadly.
5-Stars! ". . .heart wrenching, suspense ridden, and eye opening."  -Amy Castellano, Chic Book Chick
5-Stars! "Her characters are strong and believable and they will fill you with emotions that will rock you." -My Cozie Corner Book Reviews
5- Stars! ". . .This was a fantastic novel and I am looking forward to many, many more in the future."  -Alex J. Clatch, Amazon Reviewer
Buy Now @ Amazon & Smashwords
Genre – Psychological Thriller / Crime Fiction
Rating – R
More details about the author & the book
Connect with Lisa Regan on Facebook & Twitter
Website http://www.lisaregan.com/