Chapter 6
I lay in bed that night thinking about Maria's fierce, yet naive, love for Ian. Ah sixteen—such a romantic age. Again she reminded me of myself. I was only a few years older than she is when Pablo and I fell in love our sophomore year in college. We stayed together until we graduated. If this pregnancy had happened back then, Pablo and I might be married with a sixteen-year-old child today. Or—given all the ups and downs in our relationship—maybe we'd be divorced with a sixteen-year-old child. All of that is hard to imagine now.
I wouldn't have chosen to get pregnant at age twenty or twenty-one, but if I had, I would have had no hesitation about marrying Pablo. I loved him deeply, trusted him totally, and believed in our future together. I thought of him as my soul mate until that night a few days after our college graduation.
When Pablo said he'd saved up to take me to dinner at the pricey Flagstaff House to celebrate our graduation, I was sure he planned to propose. After all, the Flagstaff House is known as Boulder's most romantic restaurant, and widely acknowledged to be the best spot in town to pop the question. And we'd been together for three years. I intended to bring up my concerns that we were too young for marriage, that maybe we should wait a year or so. But I also planned to say "yes" to his proposal, because I knew we were destined to be together forever. I was floating on a joyous cloud as we walked into the elegant restaurant in the foothills.
Our table, next to a floor-to-ceiling window, gave us a breathtaking view of the city of Boulder 6,000 feet below. A stunning sunset matched my inner glow. I felt glamorous and grownup in my perfect little black cocktail dress, cut and gracefully draped to mold to my figure. I had spent more than I should have on it, but I wanted this night to be a magnificent memory. As I looked at Pablo, my handsome lover, looking especially delicious in a tie and jacket, I was in heaven.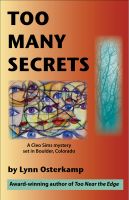 Buy Now @ Amazon & Smashwords
Genre - Mystery
Rating – PG
More details about the author & the book
Connect with Lynn Osterkamp on Twitter